What are the characteristics of a good auditorium chair?
1. Under normal circumstances, the auditorium chair has a sofa-like cushion. To facilitate the dispersal of personnel when leaving the venue, the seat cushion can be turned over.
2. In meetings and performances, there should be a relative field of vision. The auditorium chairs should be easy to maintain and clean, and comfortable to use, so that people are not easy to get tired.
3. Auditorium chairs should have seat numbers so that users can quickly identify and find seats in dark places.
4. According to the use and on-site planning requirements, the auditorium seats need to be equipped with a writing board for storing documents and records. Special auditoriums also require simultaneous translation equipment, voting and speech equipment.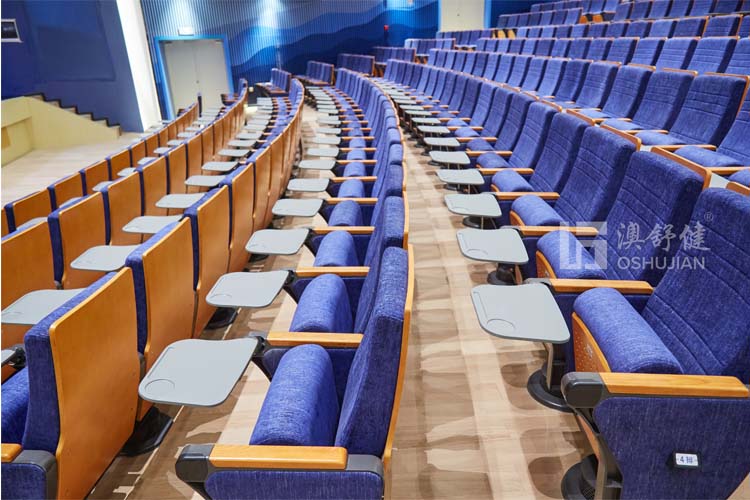 Features of Auditorium Chair:
1. Seat & back sponge: adopts cold foaming stereotyped sponge, the curve conforms to the ergonomic principle, high density is not deformed, and it can be processed with flame retardant function.
2. Linen fabric: using high-quality special linen fabric, it can process flame-retardant standard bricks, which is stain-resistant and does not fade.
3. Handrail surface: Use high-quality wooden materials applied with polyester coating.
4. Seat bag structure: The spring steel frame and the damping return structure of the starting rod are integrated, and there is no noise when retracted.
5. Writing board: storage writing board (rear-mounted folding writing board can be configured), which can be stored in the armrest frame, and the panel adopts high-density fireproof board.
6. Fastening screws: use anti-rust electrostatic spraying hexagon socket expansion screws, which are not easy to rust.
7. Seat shape: beautiful and high-end, its design conforms to ergonomic principles, and its comfort is good.