Auditorium Seating | Auditorium Furniture SJ6601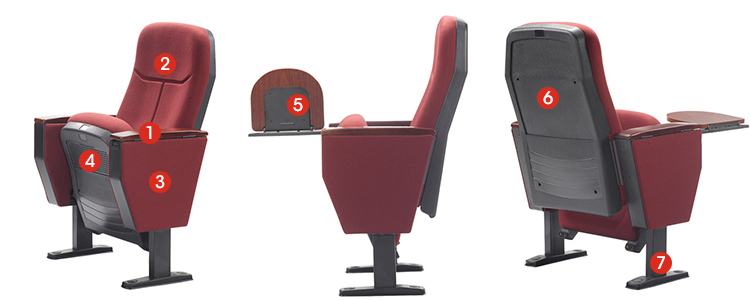 ① Armrest cover : Imported timber externally applied with polyester coating.
② Back &seat sponge : High-density PU, molded by cold foaming, no distortion for a long time.
③ Side pad fabric : Stain and discoloration resistant premium fabric with three proofings.
④&⑥ Back & seat cover : Injection molded with multiple composite material (pp), anti-impact, anti-aging.
⑤ Writing tablet :Imported timber.
⑦ Leg: Made from top quality steel after precise pressing and welding, and gone through procedures of polishing anti-rusting,phosphing, spraying and powder coating with pp side pads by injection molding in one time.
Cushion recovery: Spring or gravity returning mechanism.

Screw: Steel hexagon socket cap screws and expanding nut.

Dimensional reference:
Backrest height: 1010MM; Armrest height: 610MM;
Seat width: 465MM; Armrest length: 530MM;
Writing board length: 850MM; Seat height: 460MM.